Valuing mental and physical health equally
Mental and physical health are undeniably linked – our physical health can affect our mental health, and vice versa. But healthcare often deals with them separately, with physical health considered to be more important. The MaP Game was developed to address this issue and help professionals to address mental and physical health problems together. Patients should be able to "walk through one door" and experience a service that takes a whole person approach.
The MaP Game is an educational board game that encourages structured learner-led discussion and reflection about supporting people with both mental and physical health needs. This helps staff working in health and social care to appreciate that mental and physical health are equally important, developing the knowledge and skills to support overall health and wellbeing.

The game is suitable for anyone working in health and social care, or with the Workplace Edition, anyone at any level in an organisation. Scenarios in the game help and encourage players to explore the small changes in our thinking and behaviour that can have a positive impact on the care that is received and the individual's experience of care.
Face-to-face and online versions available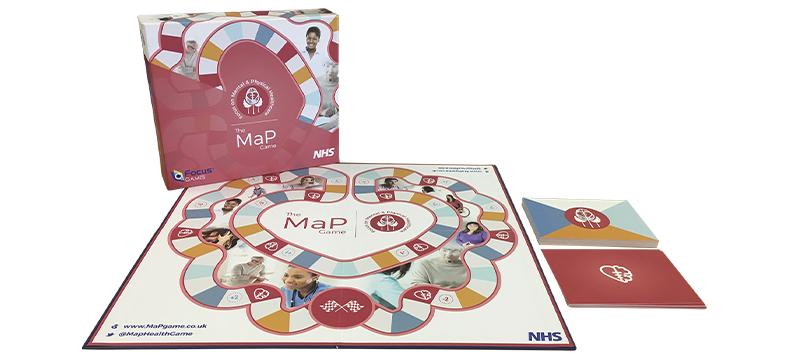 Board game for face-to-face learning.
Traditional tabletop game for groups working face-to-face. Encourages collaborative team discussions.
Generates fun and enthusiasm with a serious purpose and clear outcomes.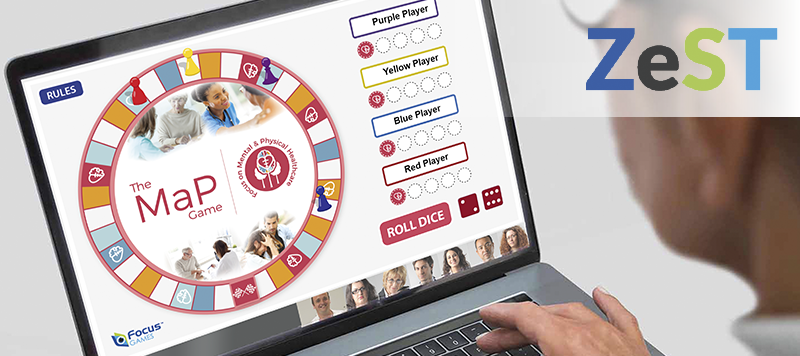 Online for socially distanced learning.
Digital board game replicates the intensity of face-to-face on Zoom, Skype & Teams.
Can be used for remote learning or socially distanced face-to-face sessions. Just share your screen with the group, wherever they are.
Developed by health and social care professionals
The MaP Project began in 2017 when representatives from Health Education England North West London (HEE NWL), local primary care, NHS North West London service providers, University of West London and Allied Health Solutions (AHS) met to discuss supporting the workforce to manage people with mental and physical health needs.
Key themes that emerged were:
Staff lacked confidence, knowledge and skills to effectively deliver a service to those with both mental and physical health needs.
Patients were seen by different professionals about their different mental and physical health needs, meaning potentially many points of contact into the healthcare system and inadequate care coordination.
It was important to recognise and develop the skills of the existing health and social care workforce.
This led to the development of The MaP Game, to enable staff to have structured learner-led conversations about the management of both mental and physical health needs and help build confidence, knowledge and skills.

What's in the box?
A BETTER WAY TO LEARN
Games make face-to-face training more engaging and effective.
Games encourage people to talk and learn from each other.
Games can be used anywhere, by anyone with no external support.
Games = a workshop in a box.
Play the MaP Game: London
Are you based in London? Play the MaP Game and enhance your knowledge and skills to support those with both mental health problems and physical health needs at a Multiprofessional Learning Group.
Application form and further information are provided in the downloadable documents below.
Ready to buy the MaP Game?
Or perhaps you'd like to get in touch?